Poker has been played at tables around the world for decades, but the game's popularity has exploded since the introduction of online poker. The internet has made poker so much more accessible and, with several different variants, people can play the type of poker game that suits them and do so for leisure or for a living. Better still, they can do so whenever they feel like it and play in games against opponents across the world. They just need to find a reliable poker site to do it, of which there are plenty, one of these being 888 Poker. This is a review of the site.
Playing on the desktop
You can play 888 Poker the technologically old school way of on your desktop or you can go down the modern way of on a mobile app and game while you're on the move. The site is accessible on the PC or Mac and you can download the software and install it on your computer or, if you just want to get on with the game, go to the Instant Play option and get playing straight away on your browser.
Going old school doesn't' mean less variety. When playing on the 888 Poker site on a desktop, you can play Omaha Hi-Lo, 7 Card Stud and the classic Texas Hold 'Em. You can also play some of the faster moving games, such as SNAP poker, in which if you fold, the site transfers you to a new table and sets you up with a new game without any questions. You can also play the new BLAST sit-and-go game, in which when the time runs out, each of the players goes all in.
The site design is crisp and elegant, with well-defined graphics and uncluttered tables that give each player plenty of space at the table. The cash game and tournament lobbies have remained pretty much the same, which makes them as easy as they've ever been to navigate.
In general, the Poker 8 software update has improved the overall user-friendliness of the site and, even when you're playing for serious money, there's a relaxed feel to games. If you're more of a leisure player, 888 Poker is the site for you, whereas if you're looking to go up against professional players, you might not come across as many as you might expect on a poker site.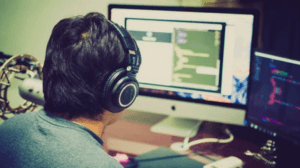 Playing on mobile
888 Poker is available on the iOS and Android and offers a sublime experience for users who want to play on the go. The app provides users with a straightforward overview of the different types of game you can play, allowing you to go quickly to cash games, sit-and-go games or scheduled tournaments as you please. You can even filter the cash games by the number of players and the stakes. If you're considering playing in a tournament, you can filter by speed and buy-in.
The gameplay on the app is slick. The simple layout, with the Fold, Call and Raise options clearly set out, offers smooth play. Some players might prefer a slightly longer betting slider, although the "+" and "-" buttons make it easy enough to size bets and there are also a ½, ¾ and Pot shortcuts to size your bets quickly.
The app features three main variants of poker: 7 Card Stud, Omaha Hi-Lo and, of course, Texas Hold'em. There are various stakes available, including "limit," "pot limit" and "no limit." You can also play the faster poker variations BLAST and SNAP Poker.
This may not be the app for poker veterans if they like to use a heads-up display, however, since the app doesn't allow third-party software. Poker operators implement policies like this to level the playing field between the people at their tables and ensure that all players can enjoy their sessions at the tables. The site does run multi-table tournaments, however.
Safety and security on 888 Poker
888 is a highly trusted operator and implements several different policies to ensure as fair play as possible between players at the table. This includes policies on hands, bets and on tactics that players might employ to gain unfair advantages over other players.
The operator takes great care to protect players and handle their data carefully. The site uses SSL and encryption technology to keep their customers' data secure and allow them to play safely online. The operator also uses state-of-the-art software and ID verification to protect players further as well as to enhance the gaming experience for them.
Another feature that the operator offers to protect players is of special benefit to anyone new to playing online poker. Instead of entering games cold, the site offers a practice mode. This allows people to play games without gambling their own money and get used to the tables. Instead, they're playing for virtual money and when they're feeling confident enough, they can start playing cash games. Note that usage of the app is also free.
All in all, 888 Poker is a versatile poker gaming operator that caters for people who want to play poker on a variety of platforms. Whether you're playing on the desktop or wanting to game on the go, you can find a poker variant to suit you and know that you're able to play safely on a platform that tries to ensure a level playing field.