Away from playing at huge European stadiums and attending red carpet events, celebrities enjoy winding down with a poker session on occasions. In fact, there are more celebrity poker players than you might think, with some famous faces even entering tournaments and regularly testing themselves against some of the best poker players around. Someone who is doing exactly that is Neymar, one of the world's best soccer players.
Currently playing in France for Paris Saint-Germain, Brazil's all-time leading goal scorer is adept at the game of poker. Of course, he certainly has the time and money to make a real go of it, although his dive into the poker world is far from a case of a bored millionaire with money to splurge. Instead, the Brazilian trickster is said to play like a professional, coming out on top in a number of tournaments after fine-tuning his game through discovering online poker platforms and learning from some of the top poker minds around during tough and highly competitive competitions. Neymar clearly loves the game of poker, that's for sure.
Neymar isn't the only celebrity who plays poker
Alongside Neymar, some instantly recognisable faces have been known to enjoy bluffing their way to success too, with the likes of Matt Damon, Jay-Z, Ben Affleck and Kevin Hart all admitting their love for the game, alongside being seen playing in a variety of regional tournaments. Although these celebrities are global stars in their own right, not many of them have the fanbase that Neymar has, particularly when factoring in the global appeal of soccer. Neymar is a much-loved talent on every corner of the globe, especially in Europe and in various territories in South America, with Brazil's captain expected to grow his brand further should he make a big-money move to Chelsea in the summer transfer window. On Instagram alone, Neymar has over 200 millions followers too, alongside being one of the highest earners in the soccer world. For the game of poker, given the global attention he brings, Neymar's presence in the poker sphere can only be a good thing.
Neymar has won on numerous occasions
There have been numerous pictures captured of Neymar playing in a number of competitive poker-playing scenarios. For instance, he kicked off his New Year celebrations early with an impressive victory over a professional player in a tournament put together by a fellow soccer player. After PSG's first-leg Champions League home defeat to Bayern Munich, Neymar was then spotted playing at the European Poker Tour, a respected competition that is frequented by some of the world's best poker players. Neymar more than held his own in the tournament, too, with the former Barcelona star eventually finishing 49th in the rankings. Considering he hasn't dedicated his life to playing poker yet, Neymar's skillset is mightily impressive. When he does eventually hang up his boots, we might be seeing him taking part in a number of respected competitions in the future.
Even the poker pros are impressed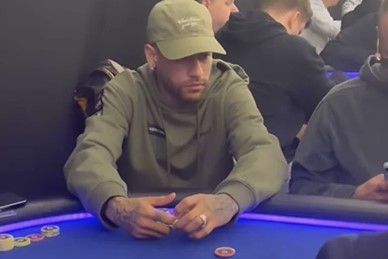 (Image via https://twitter.com/vipsg_fr)
Given his global appeal, Neymar's impact in the poker world hasn't gone unnoticed among the professional players either. Players like Thomas Eychenne and Julien Sitbon have openly commented on Neymar's transfer from the soccer pitch to the poker table, with Sitbon noticing Neymar's aggressive approach. He said: "We're talking about Neymar what! The notoriety he has! He's someone who plays a lot of hands, so I would describe him as rather aggressive. Afterwards, I didn't play him enough to know if he was aggressive or passive, but he plays a lot of hands. But I think he is focused because he is a competitor."